My older brother, Robert, is why I run half marathons and marathons, and is ultimately why I began my fitness journey. He is my source of motivation, inspiration, and encouragement everyday.
Robert was born on August 7th, 1988. I'm not being biased when I say he is the best big brother in the world.
(Robert, me, dad, mom in Quebec, Canada)
Robert was passionate about running. Like me, Robert ran track and cross-country during high school, and as a team captain, he led the boy's track and field to win a state championship. Robert also ran in college, but his true passion was mountains.
Ever since he was a child, Robert would eat, sleep, and breathe mountains. His love for mountains grew as my family would spend every school vacation skiing. We made many trips to Mt. Washington, Jay Peak, and Quebec, Canada.
(Robert at Mt. Washington summit, 6,288 ft. in New Hampshire – April 2007)
My mom recalls standing with Robert at the base of Owls Head mountain in Quebec. He was about three years-old and it was pouring rain. He was fascinated watching the chairlift go around and around taking skiers up the mountain. My parents knew from this moment on that Robert's passion was mountains.
(Robert and me skiing in the 1990s)
Turns out my parents were right. Three days after graduating from Dickinson College in 2011, Robert packed up his car and drove from our house in Connecticut out to Denver, CO to begin his dream job as a geologist.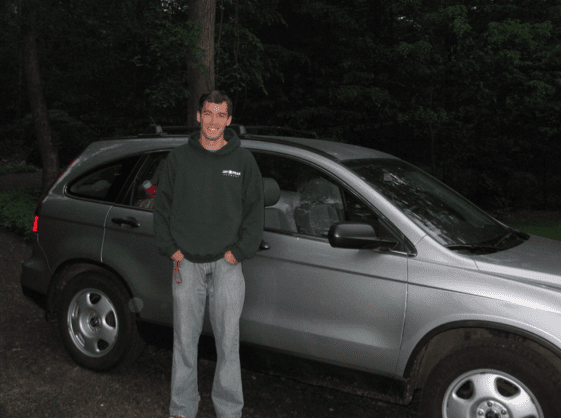 (Robert about to leave on his 3-day drive to Colorado – May 2011)
Loving his new life in Denver, Robert lived every day to its fullest. He would work during the day and run during the evenings, and on the weekends Robert would climb mountains.
(Robert on Crestone Peak summit, 14,295 ft. – July 2011)
A fourteener (14er) is a mountain with a summit elevation of over 14,000 feet.
In the state of Colorado there are a total of 58 fourteeners. Robert heard about the 14ers in Colorado and immediately knew he wanted to climb all of them.
(Blanca Peak, 14,344 ft. – January 2012)
So, Robert would climb every weekend. He would climb with his roommate and with friends that he met on the trails.
(Robert in orange helmet on the left. Capitol Peak summit, 14,131 ft. with roommate and 3 friends – July 2012)
After about a year of living in Denver, Robert had summited more than half of the 14ers.
 (Castle Peak summit, 14,278 ft. – June 2011)
My parents and I even hiked some with him. Below is my dad and Robert while hiking North Maroon Peak.
(North Maroon Peak, 14,163 ft. – July, 2011)
This is Robert and my mom hiking Mt. Sniktau. Mt. Sniktau technically isn't a 14er, but it's close enough 🙂
(Mt. Sniktau, 13,240 ft. – June 2011)
And below is Robert and me hiking Mt. Elbert. Mt. Elbert is the highest mountain in Colorado, and the second highest mountain in the lower 48.
(Mt. Elbert, 14,440 ft. – October 2011)
Robert would hike year-round, though he was always very careful and cautious. On a couple occasions, Robert turned around while hiking or postponed a climb due to inclement weather.
(Hiking Mount Sherman, 14,035 ft. – December 2011)
During his second summer in Colorado (2012), Robert ran the Leadville Trail Marathon in Leadville, CO. This marathon is not like your ordinary marathon – the distance is still the same (26.2 miles), but the terrain is not. Instead of running on paved roads, the Leadville Trail Marathon takes you up and over the Colorado mountains.
(Mile 13.1/26.2 atop "Mosquito Pass" – 13,200 ft.)
Not only did Robert finish this marathon, but he placed 33rd out of over 1,000 runners.
After the marathon, Robert continued hiking the 14ers and soon became close to summiting all 58. After each summit, Robert would write a trip report to document his climb and to guide other hikers.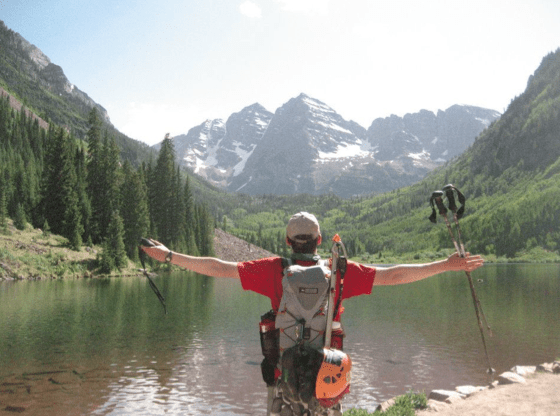 (Hiking the Maroon Bells, 14,163 ft. – June 2012)
On Saturday, August 25th, 2012, Robert and four friends were hiking Snowmass Mountain in Aspen, CO. This was Robert's 54th fourteener climb, which meant he only had to summit four more before finishing all 58. He was hoping to do this within the next month or so. Robert and his friends summited Snowmass Mountain, took pictures, and enjoyed the beautiful views below them.
On their way down the mountain, the ground beneath Robert's feet suddenly gave way and he was tragically killed in a rockslide.
Robert passed away two days before my senior year of college started. My excitement for the school year was immediately gone. Instead I felt lost, sad, confused, angry and discouraged.
(Thanksgiving 2010)
After spending one week at home with my family, I made the bold decision to go back to school. I didn't want to get behind in my studies and envisioned myself graduating with friends, but at the same time, I had no idea how I was going to deal with this loss while taking classes, finding a job, and maintaining a social life.
(Me, dad, mom, Robert – Thanksgiving 2010)
At school I continued to feel very lost. Robert was my best friend and would always help me through difficult times, so without him, I didn't really know what to do. So I did one thing that always made Robert feel better, and that was to go for a run.
Everyday I would run when I felt like I was hitting my lowest point. I went from feeling like I couldn't get out of bed to eat something, to feeling like I could move mountains.
As time passed, my runs became longer and I ran further and further. I became interested in running half and full marathons, and have run over fifty races, ranging from 5K's to an ultra mountain marathon.
Running has given me my life back.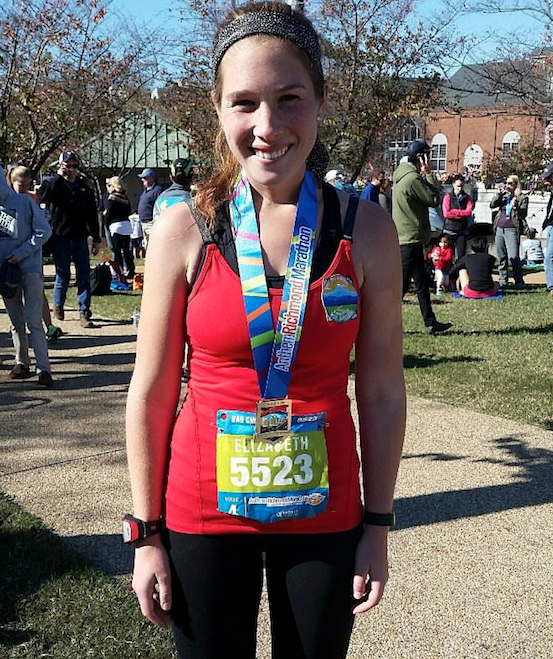 (Anthem Richmond Marathon finish line – November 2015)
In June 2015, I ran the Leadville Trail Marathon in memory of Robert. The LTM is the second most difficult marathon in the country, and while I didn't place 33rd overall like Robert, I crossed the finish line of my very first marathon. Since then, I've returned to Leadville every year with friends and family to run this race.
(Crossing the LTM finish line – June 2015)
The starting line is at an elevation of 10,200 ft., and the halfway mark is at an elevation of 13,200 ft. Over the course of the marathon, a runner gains a total of 6,333 ft. in elevation.
Before running the LTM in June 2015, I knew I would have to buckle down and get in serious shape. Once January 2015 arrived, I started training seriously, which included losing weight. As the winter and spring months came and went, I had lost 25 pounds and was running hill repeats.
(June 2014 –> November 2015 – down 25 lb.)
Something very special happened at the finish line of the June 2016 Leadville Trail Marathon…
Kyle got down on one knee and proposed.
 Fast forward a few years – we were married in August 2018 and I am continuing to work hard and make my dreams come true.
One of Robert's favorite quotes has always resonated with me:
"Whatever you can do or dream you can, begin it. Boldness has genius, power, and magic in it." – Johann Wolfgang von Goethe
My goals?
Launch my own run coaching business and pursue it full time (Launched Strongest Self, LLC in 2018 and began coaching full time in 2021)
Run an ultra marathon (Completed September 5, 2021 – Jay Peak Mountain Ultra Marathon, 33 miles, 53.1 km)
Qualify for the Boston Marathon
Run a 50-mile race
Qualify for the Olympic Trials
…and so much more
Let's do it.
 (Thanksgiving 2007)
#run4rob #climbonRob